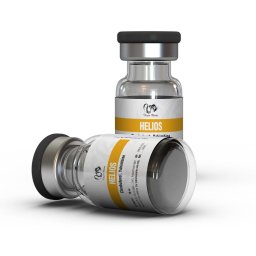 ALL PRODUCTS
Helios
For Intramuscular Injection
Composition:
- Clenbuterol Hydrochloride 80 mcg
- Yohimbine 5 mg
Mixed Dosage: 5.8 mg/1 mL
Unit: 10 mL Multidose Vial
Manufactured by Dragon Pharma
Helios Detailed
Name: Helios
Other common names and terms: Clenbroxol,Clen, Spiropent, Clenotabs, Mucifar, Ventipulmin, Alvaprol, Spiropent, Clenbut, Novegam, Ventolase, Clenbuterolic, Sivas, Arium, Risopent, Brodilin, Buclen, Clenbudilat, Monores, Asmeren, Clenodex, Clenbunal, Clenbuterol, Oxibron, Clenbutaplex, Brodilan, Muconemox, Dilaterol, Clenbutaxyl, Clenovet, Ventoflux
Active Life: 48-72 Hours
Drug Class: Beta-2 Agonist, Bronchodilator
Detection Time: N/A
Chemical Structure: (RS)-1-(4-Amino-3,5-dichlorophenyl)-2-(tert-butylamino)ethanol
Common Doses: 3.4-12.16 mg/day
Blood pressure: No
Acne: No
Water retention: No
Aromatisation: No
Liver toxicity: No
Decrease HPTA function: None
Helios, a product of Dragon Pharma, is a pharmaceutical formulation contained in a 10 mL vial. It combines two active substances: Clenbuterol Hydrochloride (80 mcg) and Yohimbine (5 mg). This blend is designed to provide a synergistic effect, harnessing the thermogenic and lipolytic properties of Clenbuterol along with the alpha-2 adrenergic receptor-blocking effects of Yohimbine. Helios is often utilized in the context of bodybuilding for its potential impact on fat loss and muscle definition.
Main Effects
Clenbuterol, a beta-2 adrenergic agonist, stimulates the sympathetic nervous system, leading to increased thermogenesis and metabolic rate. This results in enhanced fat breakdown and utilization for energy. Yohimbine, an alpha-2 adrenergic antagonist, complements Clenbuterol by blocking receptors that inhibit fat mobilization. Together, they create a potent combination for individuals seeking accelerated fat loss while preserving lean muscle mass.
The dual action helps achieve a more shredded and defined physique. You can buy Helios in the USA at our online British Dragon Pharma store.
Helios Cycle
In bodybuilding, Helios is often incorporated into cutting cycles to optimize fat loss and sculpt a lean physique. A common cycle may span 6-8 weeks, with users starting at a lower dose and gradually increasing to assess tolerance. A sample cycle might involve daily administration of 1 mL (containing 80 mcg of Clenbuterol and 5 mg of Yohimbine) initially, progressing to 2 mL over the cycle. Stacking with other compounds like anabolic steroids might occur, with dosages and combinations tailored to individual goals and tolerances.
Side Effects
Despite its potential benefits, Dragon Pharma's Helios may come with side effects. These can include jitteriness, increased heart rate, and elevated blood pressure due to the stimulant properties of Clenbuterol. Yohimbine may lead to anxiety and gastrointestinal discomfort in some individuals. It's crucial to note that individual responses can vary, and misuse or exceeding recommended dosages may amplify side effects. Users should be vigilant about monitoring their health during the cycle and seek medical advice if adverse effects persist or worsen.
References
Please log in to write Helios review.