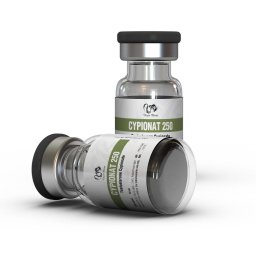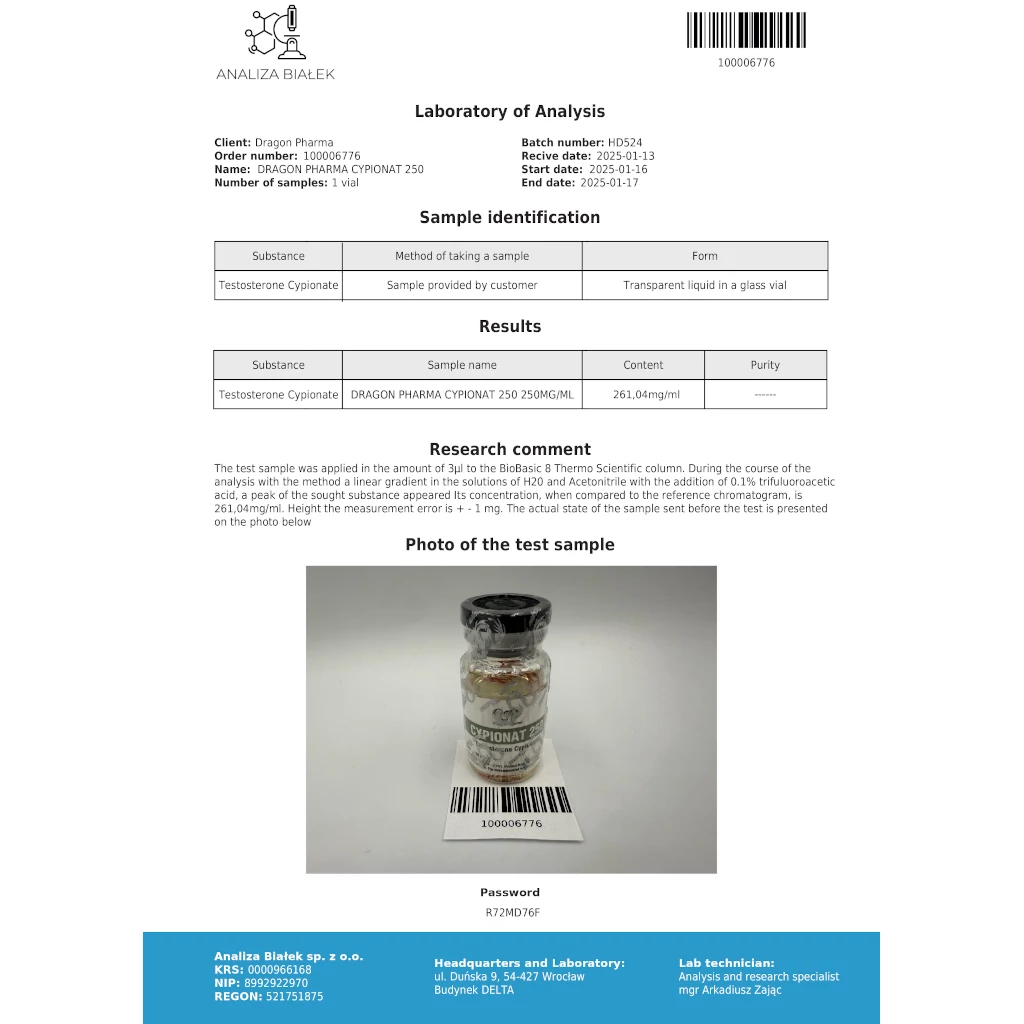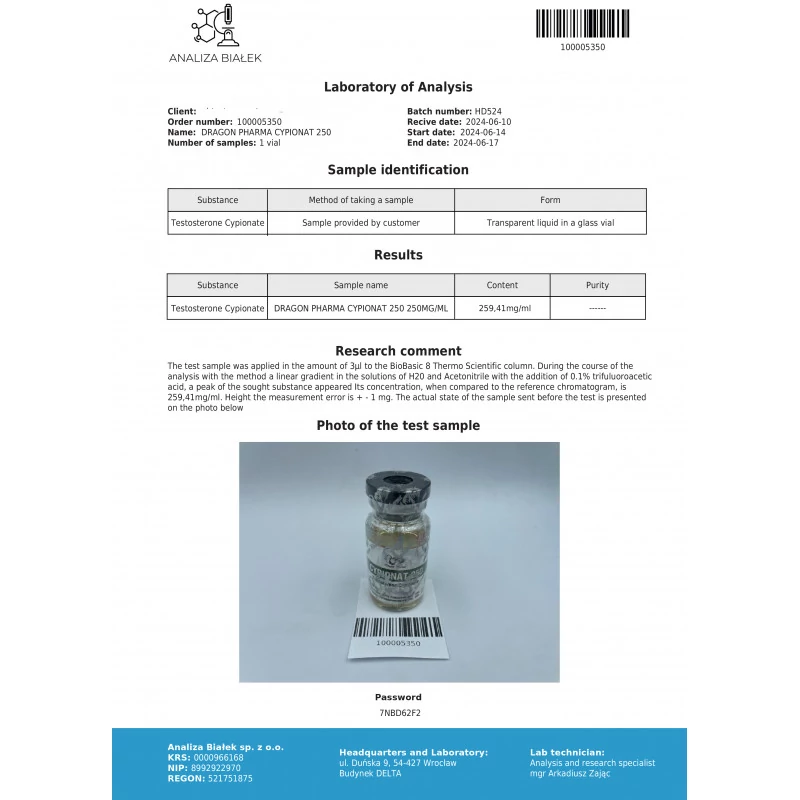 ALL PRODUCTS
Cypionat 250
For Intramuscular Injection
Composition: Testosterone Cypionate
Dosage: 250 mg/1 mL
Unit: 10 mL Multidose Vial
Manufactured by Dragon Pharma
Note: Warming and shaking the vial
should redissolve any crystals
that may have formed
during storage or shipping at a
temperature lower than recommended
Cypionat 250 Detailed
Name: Cypionat 250
Other common names and terms: Depo-Testosterone,Testoxyl, Cypoject, Testocyp, Test Cyp, Testodex, Cyponit, Cyp, Virilon, Cypiobolic, Testabol, Testosterona, Cypionat, Cyte X, Cypionax, Pharma Test C, Testex, Tcypion, Testaplex, Cypio-Test
Active Life: 15-16 Days
Drug Class: Androgen; Anabolic Steroid; Androgen Ester
Detection Time: 3 Months
Chemical Structure: (17ОІ)-3-Oxoandrost-4-en-17-yl 3-cyclopentylpropanoate
Common Doses: 50-200 mg/week
Blood pressure: Perhaps
Acne: Yes
Water retention: Yes
Aromatisation: Yes
Liver toxicity: No
Decrease HPTA function: Severe
Cypionat 250, crafted by Dragon Pharma, stands as a reliable and potent injectable steroid in the realm of bodybuilding. The key active ingredient, Testosterone Cypionate, is a long-acting ester of testosterone, designed to provide sustained anabolic effects. This pharmaceutical formulation is renowned for its role in promoting muscle growth, enhancing strength, and contributing to overall performance improvements.
Main Effects
The primary effects of Cypionat 250 revolve around its testosterone foundation. Testosterone is a crucial hormone for muscle development, and Cypionat 250 ensures a steady release, fostering an extended anabolic state.
Users typically experience heightened nitrogen retention, increased protein synthesis, and enhanced red blood cell production. These effects contribute to muscle hypertrophy, improved recovery, and heightened endurance. You can buy Cypionat 250 in the USA at our online British Dragon Pharma store.
Cypionat 250 Cycle
Cypionat 250 finds prominence in both bulking and cutting cycles, showcasing its versatility in bodybuilding protocols. In a typical bulking cycle, individuals may administer Cypionat 250 at a dosage of 200-600mg per week, usually divided into two or more injections for optimal stability. This is complemented by a well-structured diet and training regimen to maximize muscle gains.
For example, a bulking cycle could entail a 12-week period with a weekly Cypionat 250 dosage of 400mg, combined with an oral kickstart of Dianabol at 30mg per day for the first 6 weeks. This synergistic approach is designed to initiate rapid muscle growth, strength gains, and an overall increase in body mass.
Side Effects
While Dragon Pharma's Cypionat 250 is generally well-tolerated, users should be mindful of potential side effects associated with elevated testosterone levels. Androgenic side effects such as acne, increased body hair growth, and aggression may occur, particularly in those predisposed to such reactions. Estrogenic effects, including water retention and gynecomastia, can be mitigated through the use of aromatase inhibitors.
Suppression of natural testosterone production is a concern, necessitating the incorporation of post-cycle therapy (PCT) to restore endogenous hormone levels. Regular monitoring of blood parameters, adherence to recommended dosages, and consultation with healthcare professionals are imperative for a safe and effective usage of Cypionat 250.
Cypionat 250 Lab Test Result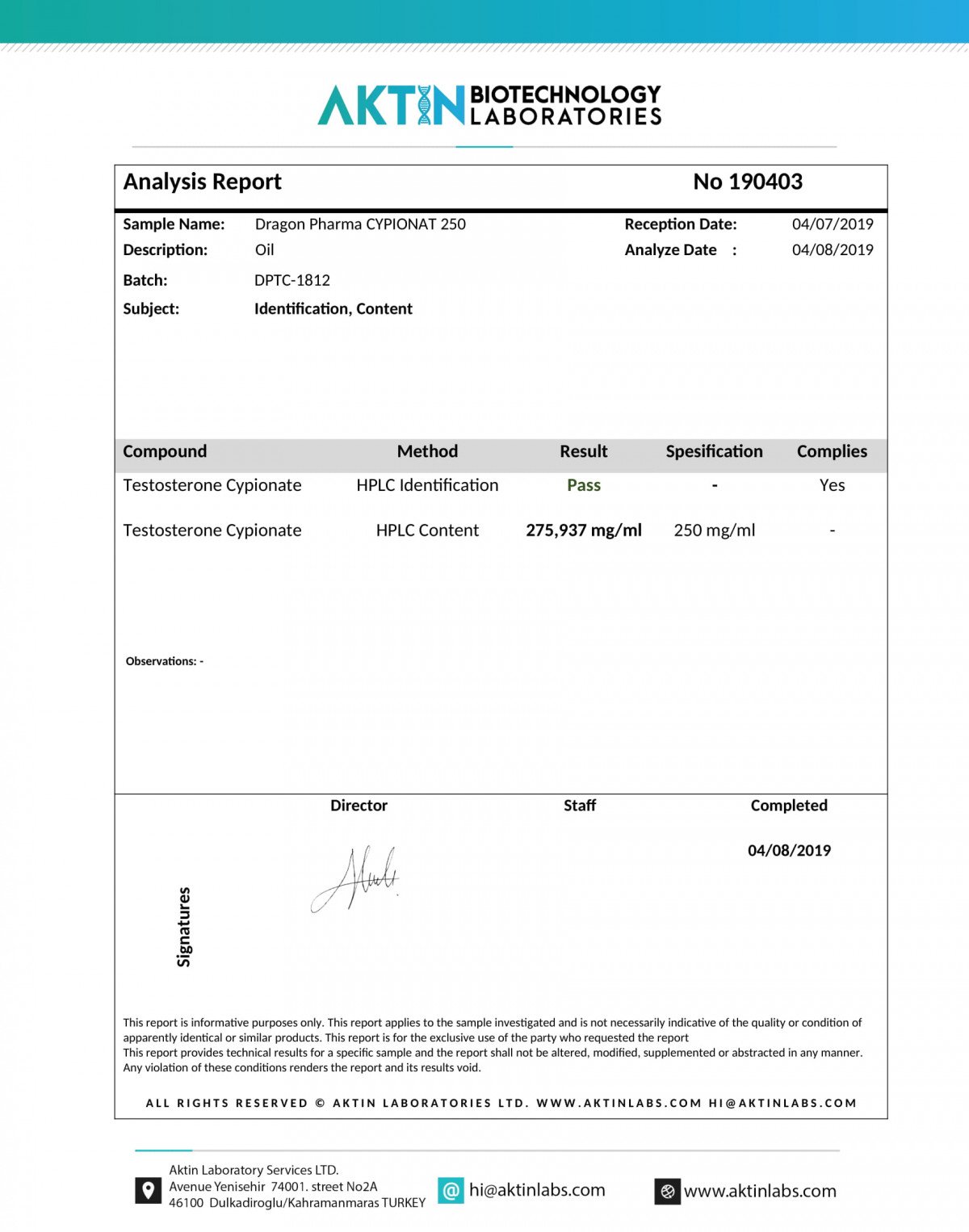 References
Please log in to write Cypionat 250 review.