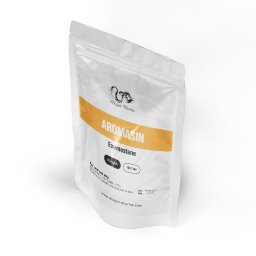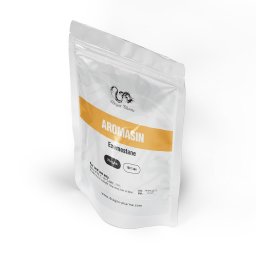 ALL PRODUCTS
Aromasin
For Oral Administration
Composition: Exemestane
Dosage: 25 mg/tablet
Unit: 100 Tablets
Manufactured by Dragon Pharma
Aromasin Detailed
Name: Aromasin
Other common names and terms: Aromaxyl, Aromasin, Aromex,Aromadex
Active Life: 9 Hours
Drug Class: Aromatase Inhibitor; Antiestrogen
Detection Time: N/A
Chemical Structure: (8R,9S,10R,13S,14S)-10,13-dimethyl-6-methylidene-7,8,9,11,12,14,15,16-octahydrocyclopenta[a]phenanthrene-3,17-dione
Common Doses: 12.5-25 mg/day
Blood pressure: No
Acne: No
Water retention: No
Aromatisation: No
Liver toxicity: No
Decrease HPTA function: None
Aromasin, produced by Dragon Pharma, features the active substance Exemestane at a concentration of 25 mg per tablet, with 100 tablets per sachet. Exemestane belongs to the class of aromatase inhibitors, crucial in the management of estrogen-related conditions. In the realm of bodybuilding, Aromasin is commonly employed to mitigate the estrogenic side effects associated with anabolic steroid use. By inhibiting the aromatase enzyme, Aromasin helps regulate estrogen levels and prevents complications like gynecomastia and water retention.
Main Effects
The primary function of Aromasin lies in its ability to suppress estrogen synthesis. In bodybuilding, this translates to a reduction in the negative effects of estrogen, such as bloating and breast tissue development. Unlike some other aromatase inhibitors, Aromasin has a unique mechanism of irreversible binding to the aromatase enzyme, offering a sustained and efficient control of estrogen levels.
The drug is appreciated for its precision in targeting estrogen without significantly affecting other hormones. You can buy Aromasin in the USA at our online British Dragon Pharma store.
Aromasin Cycle
A typical usage of Aromasin in bodybuilding involves incorporating it into a steroid cycle, particularly when utilizing compounds prone to aromatization. For instance, a testosterone cycle might include 500 mg of testosterone per week, accompanied by 12.5 mg of Aromasin every other day.
Adjustments to the dosage may be made based on individual response and estrogenic symptoms. During post-cycle therapy (PCT), Aromasin may continue to be utilized to assist in restoring hormonal balance as the body resumes its natural testosterone production.
Side Effects
While generally well-tolerated, Dragon Pharma's Aromasin, like any medication, can lead to side effects. Users may experience joint stiffness or discomfort due to reduced estrogen levels, and dosage adjustments might be required. Headaches, hot flashes, and fatigue are reported infrequently. Long-term use may impact bone density, necessitating careful monitoring and potential supplementation with calcium and vitamin D. As with any pharmaceutical intervention, individuals are advised to consult with healthcare professionals for personalized guidance and to undergo regular blood tests to ensure hormonal equilibrium.
Aromasin Lab Test Result
References
Please log in to write Aromasin review.