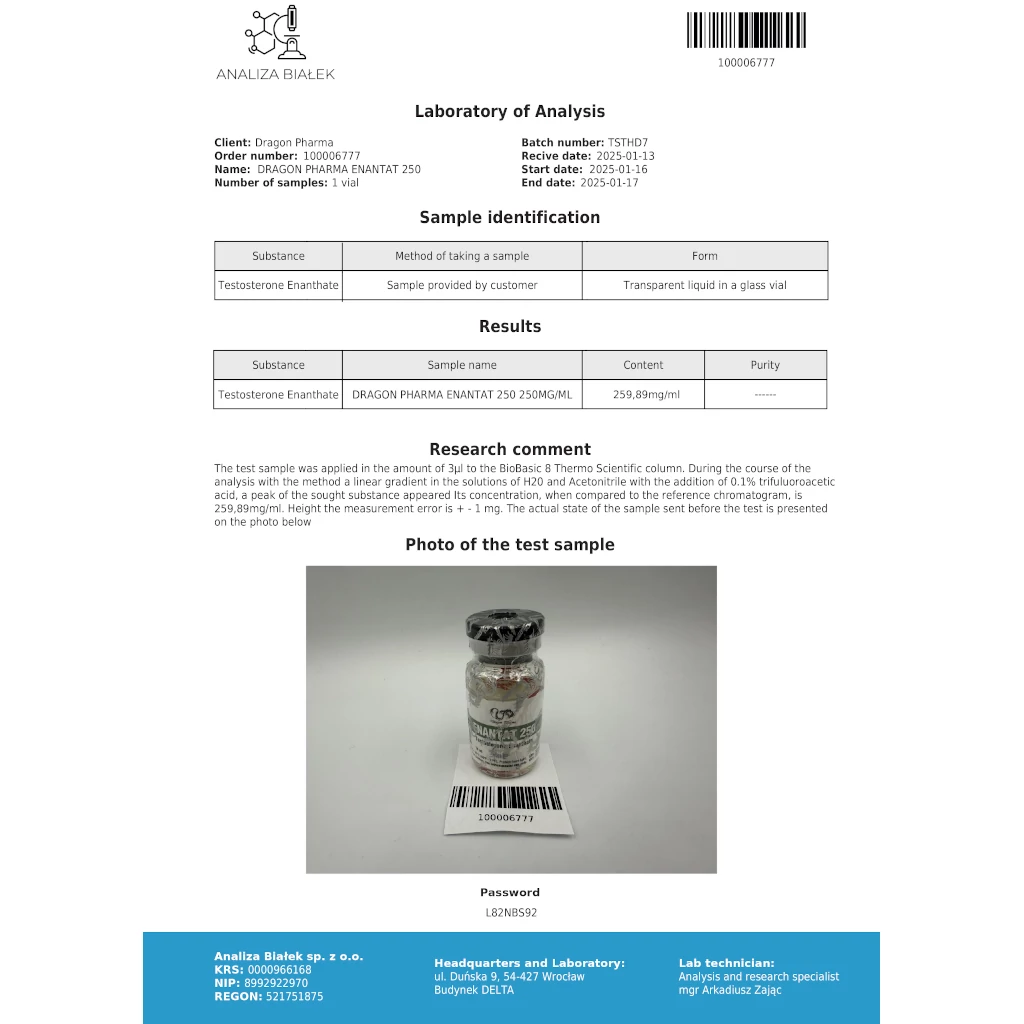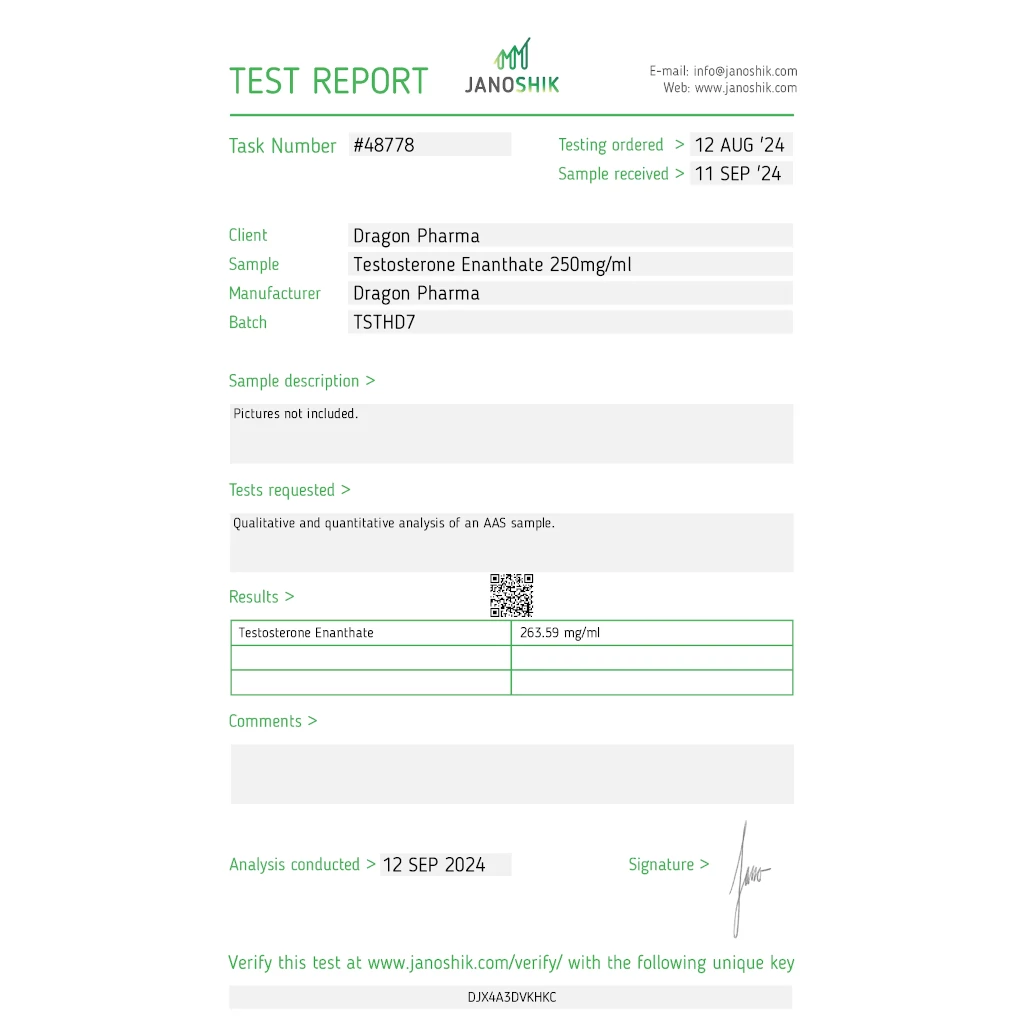 ALL PRODUCTS
Enantat 250
For Intramuscular Injection
Composition: Testosterone Enanthate
Dosage: 250 mg/1 mL
Unit: 10 mL Multidose Vial
Manufactured by Dragon Pharma
Enantat 250 Detailed
Name: Enantat 250
Other common names and terms: Andro LA, Testro LA, Testostroval, Andropository, Test E, Testobilin, Everone, Enantrex, Testofort, Testonova,Testoxyl, Androne 250, Nuvir, Androne 100, Delatestryl, Testabol, Durathate, Testosterona, Enantbolic, Enanthate, Menocare, Pharma Test E, TestaPlex E, Cidoteston, Testoviron, Testobolin, Asset-250, Testrin, Androfil, Testodex, Cidotestone, Enantat
Active Life: 15-16 Days
Drug Class: Androgen; Anabolic Steroid; Androgen Ester
Detection Time: 3 Months
Chemical Structure: (17ОІ)-3-Oxoandrost-4-en-17-yl heptanoate
Common Doses: 50-200 mg/week
Blood pressure: Perhaps
Acne: Yes
Water retention: Yes
Aromatisation: Yes
Liver toxicity: No
Decrease HPTA function: High
Enantat 250 is a powerful injectable steroid crafted by Dragon Pharma, featuring the active substance Testosterone Enanthate at a concentration of 250 mg per 10 mL vial. This pharmaceutical-grade compound belongs to the class of long-acting esterified testosterone variants, providing sustained androgen release. Recognized for its reliability and efficacy, Enantat 250 is a cornerstone in the world of bodybuilding and hormone replacement therapy (HRT).
Main Effects
As a testosterone derivative, Enantat 250 exerts a myriad of effects crucial for muscle growth and overall well-being. The primary mechanism involves heightened protein synthesis and nitrogen retention, creating an optimal anabolic environment for muscle tissue development. Users commonly report substantial gains in muscle mass, increased strength, and enhanced recovery, making it a preferred choice for both bulking and strength-focused cycles. The androgenic properties contribute to improved bone density, libido, and a sense of well-being.
Beyond its anabolic prowess, Enantat 250 stimulates red blood cell production, promoting better oxygenation of muscles during intense workouts. This results in increased endurance, delayed fatigue, and faster recuperation between training sessions. You can buy Enantat 250 in the USA at our online British Dragon Pharma store.
Enantat 250 Cycle
Enantat 250 is a versatile steroid suitable for various bodybuilding goals. For a classic bulking cycle, users may administer 500 mg of Enantat 250 per week, alongside a suitable aromatase inhibitor to manage estrogenic side effects. This dosage can extend for 12-16 weeks, fostering substantial gains in muscle size and strength.
For those seeking a cutting or lean muscle preservation cycle, Enantat 250 can be combined with compounds like Winstrol or Anavar. A typical dosage might involve 500 mg of Enantat 250 per week, coupled with 50 mg of Winstrol every other day. This synergistic approach helps maintain muscle mass while promoting a lean and defined physique.
Side Effects
While Dragon Pharma's Enantat 250 is generally well-tolerated, users should be aware of potential side effects associated with elevated testosterone levels. Androgenic effects may include acne, increased body hair growth, and, in susceptible individuals, male pattern baldness. Estrogen-related side effects like water retention and gynecomastia can occur, necessitating the use of anti-estrogens during the cycle.
Suppression of natural testosterone production is an inherent risk, requiring the implementation of post-cycle therapy (PCT) to restore hormonal balance. Routine monitoring, responsible dosing, and consultation with healthcare professionals are crucial for minimizing potential adverse effects.
Enantat 250 Lab Test Result
References
Please log in to write Enantat 250 review.