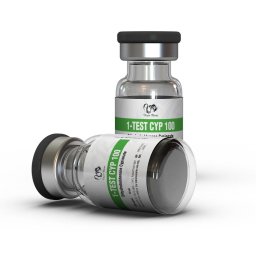 ALL PRODUCTS
1-Test Cyp 100
For Intramuscular Injection
Composition: Dihydroboldenone Cypionate
Dosage: 100 mg/1 mL
Unit: 10 mL Multidose Vial
Manufactured by Dragon Pharma
1-Test Cyp 100 Detailed
Name: 1-Test Cyp 100
Other common names and terms: 1-Test Cyp, Testoform Blast, Dihydroboldenone Cypionate, 1-Testo, Testoform 1-C, Dihydroboldenone, 1-T,1-Testosterone, GP 1-Test Cyp, DHB
Active Life: 8-10 Days
Drug Class: Injectable Anabolic Androgenic Steroid
Detection Time: 12-18 Months
Chemical Structure: 7beta-hydroxyandrost-1-en-3-one, 5alpha-androst-1-en-3-one, 17beta-ol
Common Doses: 200-400 mg/week
Blood pressure: Perhaps
Acne: Yes
Water retention: Yes
Aromatisation: Yes
Liver toxicity: No
Decrease HPTA function: Severe
1-Test Cyp 100, formulated by Dragon Pharma, is an injectable anabolic steroid featuring Dihydroboldenone Cypionate as its active substance. This unique compound is a derivative of the potent anabolic steroid Boldenone, with a modification that enhances its androgenic properties, making it a powerful addition to the bodybuilding world.
Main Effects
1-Test Cyp 100 induces significant muscle growth and strength gains while minimizing water retention. Its androgenic properties contribute to enhanced protein synthesis, promoting a positive nitrogen balance crucial for muscle development. Athletes often appreciate its ability to elevate erythropoiesis, leading to an increase in red blood cell count and improved oxygenation, crucial for endurance.
You can buy 1-Test Cyp 100 in the USA at our online British Dragon Pharma store.
1-Test Cyp 100 Cycle
In bodybuilding, 1-Test Cyp 100 is commonly used for both cutting and bulking cycles. For a cutting cycle, a dosage of 300-500 mg per week is often recommended, complemented by compounds like Winstrol or Anavar. In a bulking cycle, a higher dosage of 600-800 mg per week can be utilized, stacked with potent anabolic steroids such as Testosterone or Trenbolone. Cycle length typically spans 8-12 weeks.
1-Test Cyp 100 is administered through intramuscular injections, ensuring a steady release of the compound into the bloodstream. Athletes often follow a systematic approach to their cycles, adjusting dosages based on experience, individual response, and desired outcomes. It is crucial to incorporate post-cycle therapy (PCT) using compounds like Clomid or Nolvadex to restore natural testosterone production.
Side Effects
While Dragon Pharma's 1-Test Cyp 100 is known for its favorable anabolic to androgenic ratio, potential side effects may include androgenic effects such as acne, increased facial/body hair growth, and aggression. Monitoring and adjusting dosage are essential to minimize the risk of adverse reactions. Additionally, users should stay vigilant for cardiovascular issues and liver strain, common concerns with anabolic steroid use. Regular health check-ups and adherence to recommended dosages can mitigate these potential side effects, ensuring a safer and more effective bodybuilding experience.
References
Please log in to write 1-Test Cyp 100 review.