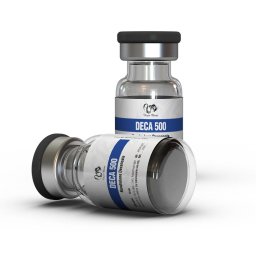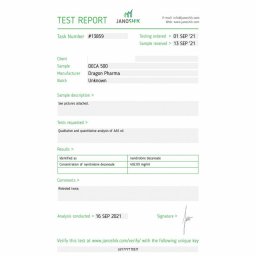 ALL PRODUCTS
Deca 500
For Intramuscular Injection
Composition: Nandrolone Decanoate
Dosage: 500 mg/1 mL
Unit: 10 mL Multidose Vial
Manufactured by Dragon Pharma
Deca 500 Detailed
Name: Deca 500
Other common names and terms: Nandrolone, Pylodec, Myobolin, Decaplex, Newdec, Nandrolona, Nandroxyl, Nitrobol, Nandrobolin, Duraxyl, Axidrol, Nandrodex, Decatrex, Decaver, Decabolic, Nandronit D, Durobolic, Synobol, Durabol,Deca, Growdeca, Cheribol, Therabol, Grodec, Deca-Durabolin, Pharma Nan D, Deca-Duralin, Durabolin, Decos, Gemdec, Decabol, Zebol, NPP
Active Life: 6-7 Days
Drug Class: Androgen; Anabolic Steroid; Progestogen
Detection Time: 17-18 Months
Chemical Structure: (17ОІ)-3-Oxoestr-4-en-17-yl decanoate
Common Doses: 250-500 mg/week
Blood pressure: Perhaps
Acne: Rarely
Water retention: High
Aromatisation: Low
Liver toxicity: Low
Decrease HPTA function: Low
Deca 500 is a potent injectable steroid created by Dragon Pharma, containing the active substance Nandrolone Decanoate at a concentration of 500 mg per 10 mL vial. Renowned for its anabolic properties, Deca 500 is a versatile choice for bodybuilders and athletes seeking substantial muscle growth and enhanced performance. Nandrolone Decanoate, a derivative of testosterone, is celebrated for its ability to promote protein synthesis, nitrogen retention, and increased red blood cell production.
Main Effects
The primary effects of Deca 500 stem from its robust anabolic nature. By stimulating nitrogen retention, the steroid fosters a positive nitrogen balance crucial for muscle development. Protein synthesis is heightened, facilitating the creation of new muscle tissue. Additionally, Deca 500 supports improved oxygenation of muscles through increased red blood cell production, contributing to enhanced endurance and efficient recovery.
Users typically experience significant gains in lean muscle mass, augmented strength, and improved joint health, making it a popular choice for both bulking and therapeutic purposes. You can buy Deca 500 in the USA at our online British Dragon Pharma store.
Deca 500 Cycle
Deca 500 is commonly employed in bodybuilding cycles designed for substantial muscle growth. A typical dosage ranges from 400-800 mg per week, administered over a 10 to 14-week cycle. For example, a well-rounded cycle might include Deca 500 at 600 mg per week, combined with Enantat 250 at 500 mg per week. This combination synergizes the anabolic effects, fostering notable gains in muscle size and strength.
Advanced users may choose to incorporate an oral compound like Dianabol for the initial 4-6 weeks at a dosage of 30 mg per day, providing a kickstart to the cycle and accelerating early anabolic effects.
Side Effects
While Dragon Pharma's Deca 500 is generally well-tolerated, users should be mindful of potential side effects. Androgenic effects may include acne, increased facial hair, and, in rare instances, virilization in females. Estrogenic side effects, such as water retention and gynecomastia, are possible, but they can often be mitigated with proper dosing and the use of aromatase inhibitors.
Suppression of natural testosterone production is a concern, necessitating the inclusion of post-cycle therapy (PCT) to restore hormonal balance after completing the cycle. Regular health check-ups, adherence to recommended dosages, and professional guidance are crucial for ensuring the safe and effective use of Deca 500.
Deca 500 Lab Test Result
References
Please log in to write Deca 500 review.