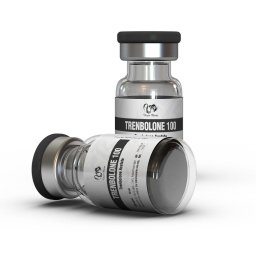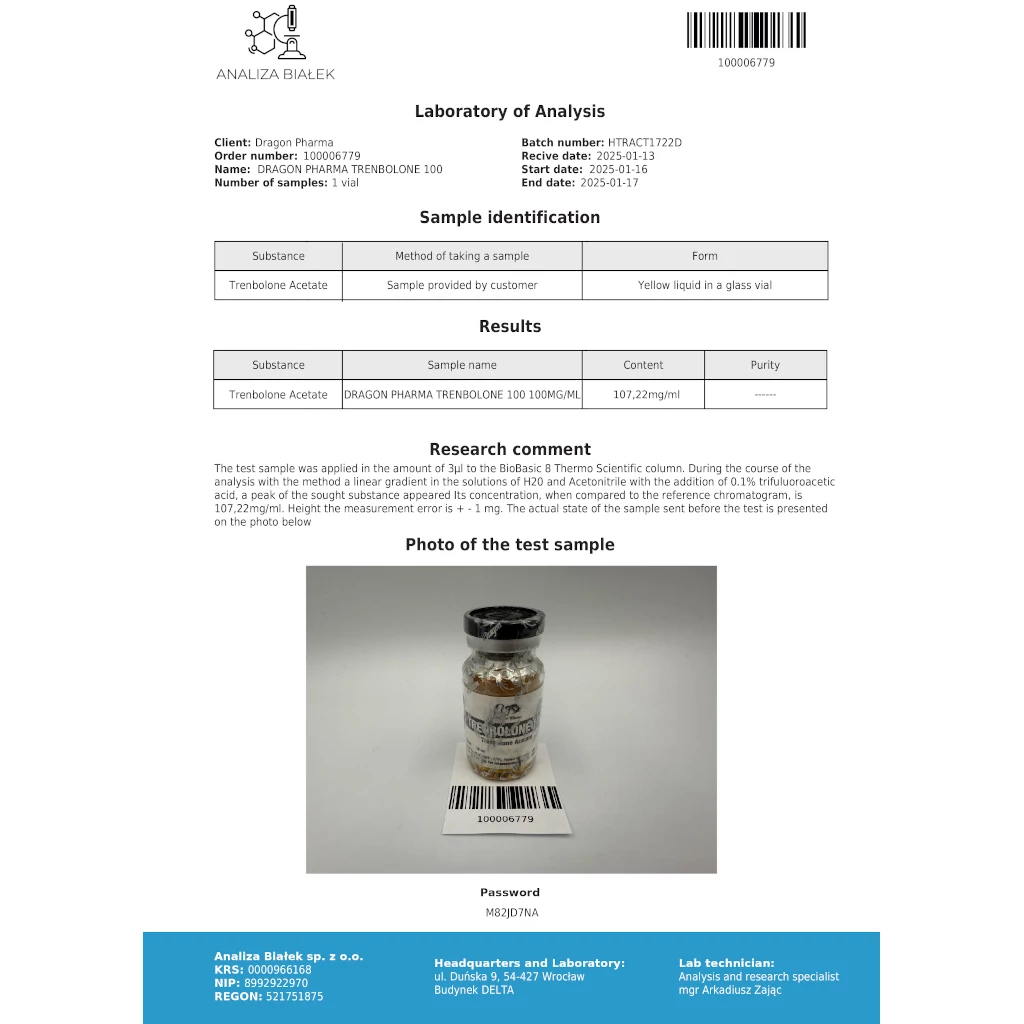 ALL PRODUCTS
Trenbolone 100
For Intramuscular Injection
Composition: Trenbolone Acetate
Dosage: 100 mg/1 mL
Unit: 10 mL Multidose Vial
Manufactured by Dragon Pharma
Trenbolone 100 Detailed
Name: Trenbolone 100
Other common names and terms: Trenoid, Trenbol, Para, Trenaplex,Trenboxyl, Tren, Fina, Tren Acne, Trebol, Trenatrex, Pharma Tren A, Trinaxyl, Trenacet, Trenodex, Trenabol, Tritren, TrenaJect, Finarex Depot, Tranabol
Active Life: 1-1.5 Days
Drug Class: Androgen; Anabolic Steroid; Androgen Ester; Progestogen
Detection Time: 4-5 Months
Chemical Structure: (17ОІ)-3-Oxoestra-4,9,11-trien-17-yl acetate
Common Doses: 200-700 mg/week
Blood pressure: No
Acne: Rarely
Water retention: No
Aromatisation: No
Liver toxicity: Yes
Decrease HPTA function: Moderate to Severe
Trenbolone 100, crafted by Dragon Pharma, is a potent anabolic steroid containing Trenbolone Acetate at a concentration of 100 mg per 10 mL vial. Recognized for its exceptional anabolic properties, Trenbolone 100 is a versatile compound used by bodybuilders and athletes seeking accelerated muscle growth and enhanced performance.
Main Effects
The main effects of Trenbolone 100 encompass a spectrum of benefits crucial for bodybuilding. Trenbolone Acetate, with its powerful androgenic and anabolic properties, promotes increased protein synthesis, nitrogen retention, and red blood cell production. This combination leads to significant muscle gains, improved oxygenation, and enhanced endurance.
Additionally, Trenbolone has a unique ability to prevent the conversion of ingested carbohydrates into fat, contributing to a leaner physique. You can buy Trenbolone 100 in the USA at our online British Dragon Pharma store.
Trenbolone 100 Cycle
In bodybuilding, Trenbolone 100 is often employed in both bulking and cutting cycles. For bulking, a typical dosage ranges from 50-100 mg every other day (EOD) for a duration of 8-12 weeks. This cycle is complemented by a high-calorie diet rich in proteins and a structured workout routine to capitalize on Trenbolone's muscle-building effects.
In a cutting cycle, a lower dosage of 50 mg EOD is common, coupled with a calorie-deficient diet and cardiovascular exercises. Stacking Trenbolone 100 with compounds like Winstrol or Anavar in a cutting cycle can amplify the development of lean muscle mass.
Side Effects
Despite its efficacy, Dragon Pharma's Trenbolone 100 is associated with potential side effects. Androgenic side effects may include acne, increased body hair, and aggression. Cardiovascular strain is a concern due to Trenbolone's impact on cholesterol levels. Additionally, users may experience insomnia and night sweats. It's crucial to monitor these effects and consult with a healthcare professional to address any emerging concerns. Adequate post-cycle therapy (PCT) is recommended to restore hormonal balance after Trenbolone use.
Trenbolone 100 Lab Test Result
References
Please log in to write Trenbolone 100 review.