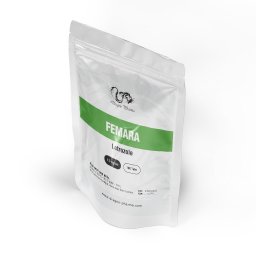 ALL PRODUCTS
Femara
For Oral Administration
Composition: Letrozole
Dosage: 2.5 mg/tablet
Unit: 100 Tablets
Manufactured by Dragon Pharma
Femara Detailed
Name: Femara
Other common names and terms: Letros, Feofar, Letz, Feofer, Letronat, Letzol, Lets, Letrazole, Fematroz, Letromina, Letrova, Femara, Trozet, Letoripe, Letroxyl, Letoval, Mamazol, Momazol, Fempro, Shantroz, Letroz, Letocor, Oreta, Oncolet, Zaronil,Letrozol
Active Life: 2 Days
Drug Class: Aromatase Inhibitor; Antiestrogen
Detection Time: N/A
Chemical Structure: 4-[(4-cyanophenyl)-(1,2,4-triazol-1-yl)methyl]benzonitrile
Common Doses: 0.5-2.5 mg/day
Blood pressure: No
Acne: No
Water retention: No
Aromatisation: No
Liver toxicity: No
Decrease HPTA function: None
Femara, crafted by Dragon Pharma, is an oral medication containing the active substance Letrozole at a concentration of 2.5 mg per tablet. Letrozole belongs to the class of aromatase inhibitors, designed to combat estrogen-related issues. In medical settings, Femara is often prescribed to treat certain types of breast cancer in postmenopausal women, but its properties also find relevance in the realm of bodybuilding.
Main Effects
The primary function of Femara is to inhibit aromatase, the enzyme responsible for converting androgens into estrogen. By doing so, it significantly lowers estrogen levels in the body. In bodybuilding, this reduction in estrogen proves beneficial by mitigating estrogenic side effects, such as water retention and gynecomastia.
Furthermore, lower estrogen levels can contribute to a more defined and lean physique, as excess estrogen can hinder the development of a chiseled appearance. You can buy Femara in the USA at our online British Dragon Pharma store.
Femara Cycle
Bodybuilders may incorporate Femara into their cycles, particularly during phases where the risk of estrogenic side effects is elevated. This often occurs when using aromatizable anabolic steroids that can lead to increased estrogen levels. A typical dosage might range from 0.25 mg to 2.5 mg every other day, depending on the individual's response and the compounds used. For instance, during a testosterone-based cycle, Femara may be employed to prevent or alleviate estrogen-related issues.
However, it's crucial to strike a balance, as excessively low estrogen levels can lead to adverse effects such as joint pain and negatively impact lipid profiles. Regular monitoring and adjustment of Femara dosage are vital throughout the cycle.
Side Effects
While Dragon Pharma's Femara is generally well-tolerated, potential side effects may include headaches, hot flashes, fatigue, and joint pain. Excessive estrogen suppression can contribute to bone density reduction, emphasizing the need for vigilant monitoring during use. It's imperative to use Femara judiciously, with consideration for individual response and the specific anabolic steroid cycle. Consulting with a healthcare professional is recommended to tailor the Femara dosage to the user's unique needs and mitigate potential side effects.
Femara Lab Test Result
References
Please log in to write Femara review.