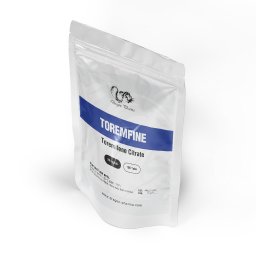 ALL PRODUCTS
Toremfine
For Oral Administration
Composition: Toremifene Citrate
Dosage: 20 mg/tablet
Unit: 100 Tablets
Manufactured by Dragon Pharma
Toremfine Detailed
Name: Toremfine
Other common names and terms: Altamofen,Fareston, Acapodene, Nolvaxyl, Tamodex, Tamoximed, Farestos, Nolvadex
Active Life: 5 Days
Drug Class: Selective Estrogen Receptor Modulator
Detection Time: N/A
Chemical Structure: 2-{4-[(1Z)-4-chloro-1,2-diphenyl-but-1-en-1-yl]phenoxy}-N,N-dimethylethanamine
Common Doses: 20-120 mg/day
Blood pressure: No
Acne: No
Water retention: No
Aromatisation: No
Liver toxicity: Very low
Decrease HPTA function: None
Toremfine is a medication featuring the active substance Toremifene Citrate at a concentration of 20 mg per tablet. Manufactured by Dragon Pharma, Toremfine is classified as a selective estrogen receptor modulator (SERM). It is primarily used in the medical field for the treatment of breast cancer, particularly in postmenopausal women. In bodybuilding, Toremfine is sometimes utilized for its potential to mitigate or prevent estrogen-related side effects associated with anabolic steroid use.
Main Effects
As a SERM, Toremfine exerts its effects by selectively binding to estrogen receptors in certain tissues. In breast cancer treatment, it is used to block estrogen's effects on cancer cells. In bodybuilding, Toremfine is employed to counteract the estrogenic side effects of anabolic steroids. The drug competes with estrogen for binding to the receptors in the breast tissue, thereby reducing the risk of gynecomastia (enlargement of male breast tissue).
Additionally, Toremfine can help regulate the hormonal balance by inhibiting the negative feedback loop on the hypothalamus and pituitary, promoting natural testosterone production. Its anti-estrogenic properties make it valuable for bodybuilders aiming to maintain a lean and defined physique during and after a steroid cycle. You can buy Toremfine in the USA at our online British Dragon Pharma store.
Toremfine Cycle
Toremfine is commonly integrated into bodybuilding cycles as part of post-cycle therapy (PCT) to support hormonal recovery. In a typical PCT protocol, Toremfine is used to restore natural testosterone production following the suppression caused by anabolic steroid use. Dosages can vary, but a common approach might involve starting with 60 mg per day for the first week and then gradually tapering down to 30 mg per day for the subsequent weeks.
The duration of PCT depends on the specific steroid cycle and individual response. Toremfine may be used as a standalone SERM or stacked with other compounds like Clomid for a synergistic effect on hormonal recovery.
Side Effects
While Dragon Pharma's Toremfine is generally well-tolerated, users may experience some side effects. Common side effects include hot flashes, mood swings, and gastrointestinal discomfort. Individuals with a history of blood clotting disorders should exercise caution, as SERMs may pose a slight increase in the risk of thromboembolic events. Vision changes, although rare, have been reported with SERM use, and users experiencing visual disturbances should seek prompt medical attention.
It's important for individuals using Toremfine in bodybuilding to be aware of its potential impact on lipid profiles and undergo regular health check-ups to monitor overall health and hormonal balance. As with any medication, consulting with a healthcare professional is advisable to ensure safe and effective use.
References
Please log in to write Toremfine review.