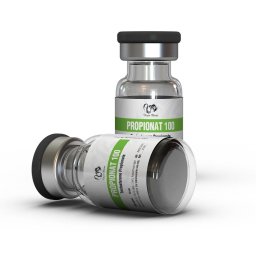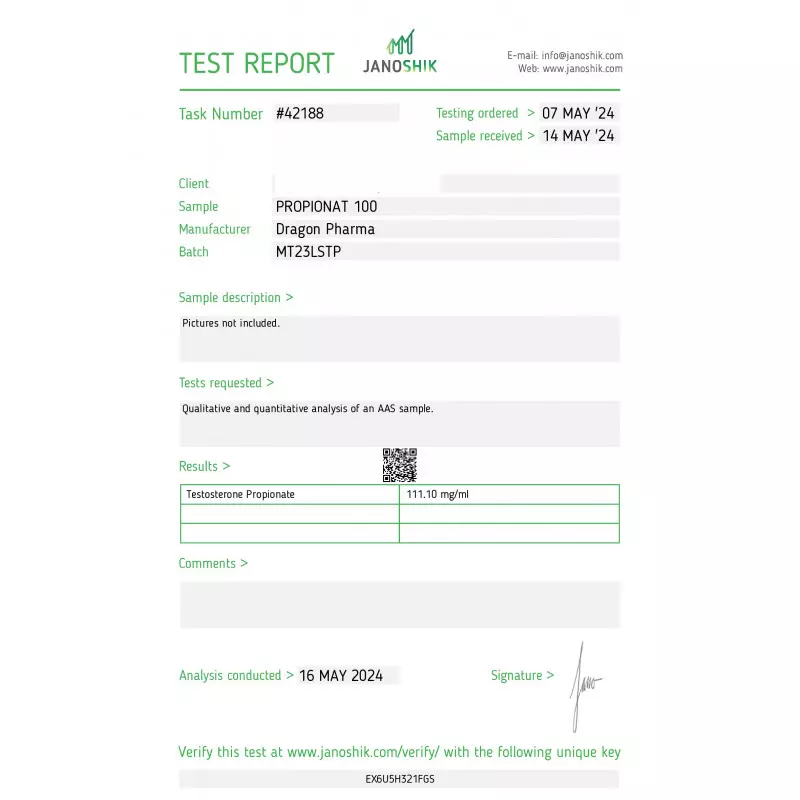 ALL PRODUCTS
Propionat 100
For Intramuscular Injection
Composition: Testosterone Propionate
Dosage: 100 mg/1 mL
Unit: 10 mL Multidose Vial
Manufactured by Dragon Pharma
Propionat 100 Detailed
Name: Propionat 100
Other common names and terms: Testosterona,Testoxyl, TestP, Prop, TestoPro, Testovis, Propionat, Virormone, TestoRapid, Anatest, Viro-Prop, Pharma Test P, Test Prop, Testoprogen, Testodex, Testos-P, Propitrex, Viromone, Testpronate, Propionate, Propioplex, Testoviron
Active Life: 1-1.5 Days
Drug Class: Androgen; Anabolic Steroid; Androgen Ester
Detection Time: 2 Weeks
Chemical Structure: (17ОІ)-3-Oxoandrost-4-en-17-yl propanoate
Common Doses: 300-700 mg/week
Blood pressure: No
Acne: Yes
Water retention: Low
Aromatisation: Yes
Liver toxicity: No
Decrease HPTA function: Severe
Propionat 100, manufactured by Dragon Pharma, is a testosterone-based anabolic steroid presented in a 10 mL vial. Its active ingredient is Testosterone Propionate, a fast-acting ester of testosterone. Known for its quick release and shorter half-life compared to other testosterone esters, Propionat 100 is a popular choice among bodybuilders seeking a versatile and efficient compound for various phases of their training.
Main Effects
Testosterone Propionate, the driving force behind Propionat 100, induces a myriad of effects contributing to muscle growth, strength enhancement, and an overall anabolic environment. This compound promotes nitrogen retention and protein synthesis, crucial factors in the development of lean muscle mass. Users often experience a boost in red blood cell production, leading to improved oxygenation and endurance.
Additionally, Testosterone Propionate enhances metabolic activity, aiding in the reduction of body fat. You can buy Propionat 100 in the USA at our online British Dragon Pharma store.
Propionat 100 Cycle
Propionat 100 is frequently employed in both cutting and bulking cycles due to its fast-acting nature. In a typical bulking cycle, bodybuilders may administer 100-200 mg every other day for an optimal anabolic effect. For a cutting cycle, a lower dose of 50-100 mg every other day can be effective in preserving lean muscle mass while promoting fat loss. Stacking with compounds like Trenbolone or Anavar is a common practice to synergize the effects and achieve comprehensive results. Cycle durations can vary, but often fall within the 6-12 week range, followed by post-cycle therapy (PCT) to restore hormonal balance.
Side Effects
While Testosterone Propionate is generally well-tolerated, users may encounter androgenic side effects such as acne, increased body hair growth, or mild aggression. Estrogenic effects are possible, necessitating the inclusion of an aromatase inhibitor if needed. Users with a predisposition to male pattern baldness or prostate issues should exercise caution. Regular monitoring and adherence to recommended dosage guidelines can help mitigate potential side effects associated with Dragon Pharma's Propionat 100 use. As with any steroid, consulting a healthcare professional before use is advised.
Propionat 100 Lab Test Result
References
Please log in to write Propionat 100 review.