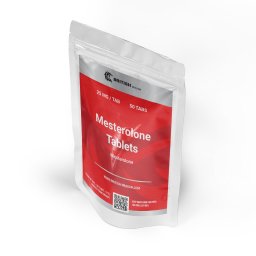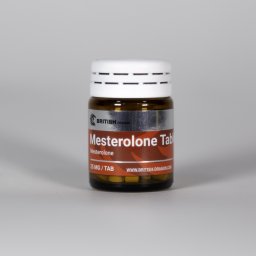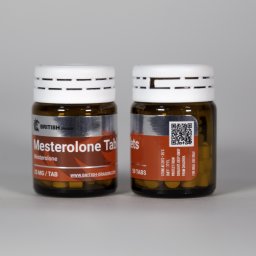 ALL PRODUCTS
Mesterolone Tablets
For Oral Administration
Composition: Mesterolone
Dosage: 25 mg/tablet
Unit: 50 Tablets
Manufactured by British Dragon Pharmaceuticals
You will save 14.40 USD

Buy 3 and get 1 of 'Mesterolone Tablets' for FREE
Mesterolone Tablets Detailed
Name: Mesterolone Tablets
Other common names and terms: Mesviron 25, Mestoranum,Proviron, Provironos, Proviroxyl, Vistimon, Provironum
Active Life: 12 Hours
Drug Class: Androgen; Anabolic Steroid
Detection Time: 5 Weeks
Chemical Structure: 1О±-Methyl-17ОІ-hydroxy-[5О±]-androstan-3-one
Common Doses: 25-100 mg/day
Blood pressure: No
Acne: Yes
Water retention: No
Aromatisation: No
Liver toxicity: Low
Decrease HPTA function: None
Mesterolone Tablets, created by British Dragon, feature the active substance Mesterolone at a concentration of 25 mg per tablet, conveniently packaged in sachets. Mesterolone is a derivative of dihydrotestosterone (DHT) and belongs to the class of androgenic-anabolic steroids. Commonly known by the trade name Proviron, Mesterolone is distinctive for its unique structure and is valued for its versatility in various medical and bodybuilding applications.
Main Effects
Mesterolone exerts a range of effects attributed to its androgenic nature. While it does not aromatize into estrogen, it possesses a high affinity for the androgen receptor. Its primary role is to enhance free testosterone levels by binding to sex hormone-binding globulin (SHBG), allowing more testosterone to remain in its active, unbound form. This can contribute to increased libido, improved mood, and a sense of well-being.
In bodybuilding, Mesterolone is often favored for its ability to complement other anabolic steroids in a stack. It may contribute to a harder and more defined appearance, enhancing the effects of other compounds. Additionally, Mesterolone is known for its anti-estrogenic properties, helping to mitigate estrogen-related side effects such as water retention and gynecomastia. You can buy Mesterolone in the USA at our online British Dragon Pharma store.
Mesterolone Cycle
Mesterolone is typically integrated into anabolic steroid cycles to enhance the effects of other compounds and provide ancillary benefits. A common dosage ranges from 25 to 100 mg per day, with users often starting at the lower end and adjusting based on individual response. For example, a user may include Mesterolone at 50 mg per day in a cycle consisting of testosterone and anabolic steroids like decabol.
Its versatility extends to post-cycle therapy (PCT), where it may be used to help maintain muscle density and mitigate the impact of a potential decline in libido associated with the end of a steroid cycle. In this context, a user might incorporate Mesterolone at 25 mg per day during the initial weeks of PCT.
Side Effects
British Dragon's Mesterolone is generally well-tolerated, and its side effects are typically mild. Common side effects may include increased aggression, oily skin, and acne. Due to its androgenic nature, virilization symptoms in females are unlikely at standard dosages. However, users should be cautious of potential negative impacts on cholesterol profiles, particularly in individuals with existing cardiovascular concerns.
Prolonged use or excessive dosages may lead to an increase in liver enzymes, necessitating regular health check-ups. As with any medication, consultation with a healthcare professional is recommended, especially for those with pre-existing medical conditions or concerns about potential interactions with other medications.
References
Mesterolone Tablets Reviews
Please log in to write Mesterolone Tablets review.