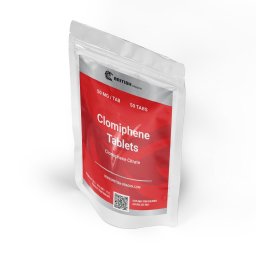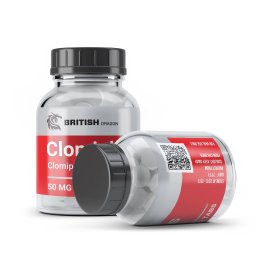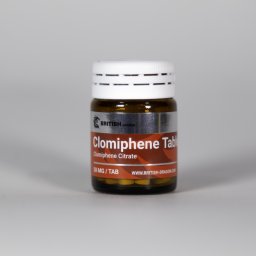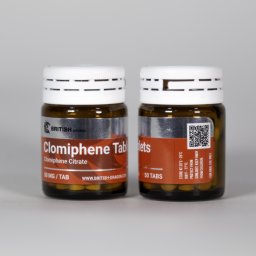 ALL PRODUCTS
Clomiphene Tablets
For Oral Administration
Composition: Clomiphene Citrate
Dosage: 50 mg/tablet
Unit: 50 Tablets
Manufactured by British Dragon Pharmaceuticals
Clomiphene Tablets Detailed
Name: Clomiphene Tablets
Other common names and terms: Genozym, Fertomid, Clomidac, Chloramiphene, Clofert, Clomiphene, Pergolime, Omifin, Syphene, Fulfyn, Clomifeni citras, Serophene, Clominova, Clomed,Clomid, Clomidex, Clomivid, Clostilbergyt, Dyneric, Fertilin, Gravosan, Ovitec, Fetrop, Tevrol, Nefimol, Clomifene, Fertitone, Serofen, Prolifen, Clomixyl, Ardomon
Active Life: 5-7 Days
Drug Class: Selective Estrogen Receptor Modulator; Progonadotropin
Detection Time: 4 Months
Chemical Structure: 2-(4-(2-chloro-1,2-diphenylethenyl)phenoxy)-N,N-diethyl-ethanamine
Common Doses: 25-150 mg/day
Blood pressure: No
Acne: No
Water retention: No
Aromatisation: No
Liver toxicity: Very low
Decrease HPTA function: None
Clomiphene Tablets, crafted by British Dragon, contain the active substance Clomiphene Citrate at a concentration of 50 mg per tablet, packaged conveniently in sachets. Clomiphene is a selective estrogen receptor modulator (SERM) that has found utility in the medical realm for treating female infertility. In bodybuilding, it is commonly employed as a post-cycle therapy (PCT) agent to help restore natural testosterone production after a cycle of anabolic steroids.
Main Effects
Clomiphene functions by blocking estrogen receptors in the hypothalamus, tricking the body into perceiving lower estrogen levels. This leads to an increase in the release of gonadotropins, namely luteinizing hormone (LH) and follicle-stimulating hormone (FSH). The heightened secretion of these hormones stimulates the testes to produce more testosterone, facilitating the recovery of the endogenous hormonal balance.
In bodybuilding, Clomiphene is valued for its ability to counteract the suppressive effects of anabolic steroids on the hypothalamic-pituitary-gonadal (HPG) axis. This helps prevent the post-cycle decline in testosterone levels, supporting muscle retention, and minimizing the potential for catabolism. You can buy Clomiphene in the USA at our online British Dragon Pharma store.
Clomiphene Cycle
Clomiphene is typically incorporated into post-cycle therapy protocols following the conclusion of an anabolic steroid cycle. A common dosage might range from 50 to 100 mg per day for a duration of 4 to 6 weeks, although individual responses may vary. For example, a standard protocol might initiate with 100 mg on the first day, followed by 50 mg daily for the remainder of the cycle.
In a post-cycle context, Clomiphene is often combined with other ancillary medications such as tamoxifen (Nolvadex) for a synergistic effect. This combination aims to address potential estrogenic side effects while promoting optimal hormonal recovery. Post-cycle therapy is crucial to prevent the undesirable consequences of suppressed testosterone levels, including muscle loss and a decline in overall well-being.
Side Effects
British Dragon's Clomiphene is generally well-tolerated, but users may experience some side effects. Common side effects include hot flashes, mood swings, and visual disturbances. In rare cases, individuals may encounter gastrointestinal discomfort, headaches, or allergic reactions. Prolonged usage or exceeding recommended dosages may increase the risk of adverse effects.
It is essential to monitor individual responses and discontinue use if severe side effects occur. As with any medication, consultation with a healthcare professional is advisable, especially for those with pre-existing medical conditions or concerns about potential interactions with other medications.
References
Please log in to write Clomiphene Tablets review.