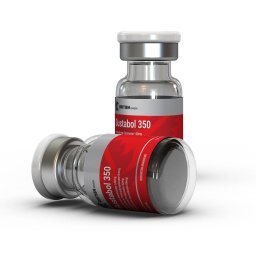 ALL PRODUCTS
Sustabol 350
For Intramuscular Injection
Composition:
- Testosterone Propionate 42 mg
- Testosterone Phenylropionate 84 mg
- Testosterone Isocaproate 84 mg
- Testosterone Decanoate 140 mg
Mixed Dosage: 350 mg/1 mL
Unit: 10 mL Multidose Vial
Manufactured by British Dragon Pharmaceuticals
Sustabol 350 Detailed
Name: Sustabol 350
Other common names and terms: Andropen, Estandron, Hexadex, Pharma Sust,Sustaxyl, Pentadex, Induject, Omnis, Testosteron Mix,Super-Test, Sustanon, Sustrone, Gonadon, Sustamed, Omnadren
Active Life: 7-8 Days
Drug Class: Injectable Anabolic Androgenic Steroid
Detection Time: 3 Months
Chemical Structure: -
Common Doses: 250 mg/week
Blood pressure: Perhaps
Acne: Yes
Water retention: Yes
Aromatisation: Yes
Liver toxicity: No
Decrease HPTA function: High
This highly effective mix, consisting of such types of testosterone as propionate in the amount of 42 mg, isocaproate and phenylpropionate - in 84 mg each, as well as decanoate - in the amount of 140 mg. One of the best types of steroid is produced by British Dragon company from Thailand. The positive effect after a cycle with such a potent androgenic and anabolic steroid, made on an oil basis, was appreciated not only by USA bodybuilders, but also by representatives of other sports disciplines. Initially, Sustabol 350 was used in medicine to stimulate the production of gonadotropin in men, to treat tumors and in the postmenopausal period in women.
Main Effects
Due to the fact that each form has its own period of exposure, a consistently high level of hormones in the blood is achieved. To buy Sustabol 350 many athletes want British Dragon in the USA. Since it does not require frequent injections, and the maximum concentration of the active substance occurs on 10th day. Since every form of testosterone is prone to aromatisation, this steroid keeps nitrogen and water from leaving the muscle tissue. It has an anabolic and androgenic index in the amount of 100% of testosterone, is not toxic to the liver, temporarily inhibits the work of the hypothalamus-pituitary-testicles axis, is found during laboratory tests for up to 3 months.
This product helps the athlete to quickly gain optimal weight for quality workouts and performances, which becomes possible due to accelerated protein synthesis and water retention inside the body. It also provides oxygen at the proper level, an increase in muscle strength and endurance, a solid increase in muscle mass, increases the number of red blood cells in the blood, improves appetite, mood and general health of the athlete. An additional plus is an increase in libido on the cycle. Experts do not advise women to use this steroid, because otherwise they will face the phenomenon of virilization.
Sustabol 350 Cycle
The solo cycle implies 2 injections per week in the amount of 350 - 700 mg of the drug. The recommended duration is 6 - 8 weeks. If the pros wish to use this steroid for more than 8 weeks, experts insist on the administration of gonadotropin. From the second week, you need to use aromatase inhibitors and use them for another 2 weeks after the end of the solo cycle.
If the goal is to gain weight, it is advised to use this drug in conjunction with Methanabol and Decabol, for a better mass with Turanabol. This cycle lasts no more than 6 weeks. In parallel, in order to avoid side effects, Pregnyl and Mesterolone are administered. If you need to increase physical strength, this drug is combined with Turanabol and Boldabol. The duration is 6 to 8 weeks. PCT after a solo cycle includes Proviron and HCG.
Side Effects
When taking aromatase inhibitors and drugs to stimulate the production of your own testosterone at the end of the cycle, you can really minimize the risk of side effects. Otherwise, those who have decided to use British Dragon Pharma's Sustabol may face such sides as gynecomastia, acne, baldness, edema, prostate problems, nervousness, aggressiveness, depression and some others.
References
Sustabol 350 Reviews
Please log in to write Sustabol 350 review.