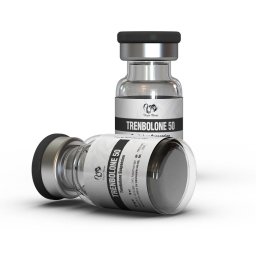 ALL PRODUCTS
Trenbolone 50
For Intramuscular Injection
Composition: Trenbolone Base
Dosage: 50 mg/1 mL
Unit: 10 mL Multidose Vial
Manufactured by Dragon Pharma
Trenbolone 50 Detailed
Name: Trenbolone 50
Other common names and terms: Trenatrex, Tritren, Finarex Depot, Trenbol, Trenoid, Tren Acne, Trenaplex, Pharma Tren A, Trebol, Trenabol, Fina, Para, Trenacet, Tren, Trinaxyl, Tranabol,Trenboxyl, TrenaJect, Trenodex
Active Life: 3-4 Hours
Drug Class: Androgen; Anabolic Steroid; Progestoge
Detection Time: 4-5 Motnhs
Chemical Structure: 17-beta-Hydroxyestra-4,9,11-trien-3-one
Common Doses: 100-500 mg/week
Blood pressure: No
Acne: Rarely
Water retention: No
Aromatisation: No
Liver toxicity: Yes
Decrease HPTA function: Moderate to Severe
Trenbolone 50, a product crafted by Dragon Pharma, is a powerful anabolic steroid containing Trenbolone Base at a concentration of 50 mg per 10 mL vial. Known for its rapid action, Trenbolone 50 is often favored by bodybuilders and athletes seeking immediate and intense effects on muscle growth, strength, and overall performance.
Main Effects
The main effects of Trenbolone 50 are characterized by its potent anabolic properties. Trenbolone Base, being the pure form of Trenbolone, facilitates rapid nitrogen retention, a crucial factor for increased protein synthesis and muscle development. Users commonly experience a swift and pronounced gain in muscle mass, heightened strength, and improved endurance.
Additionally, Trenbolone's ability to enhance nutrient efficiency contributes to a more efficient metabolism, aiding in both bulking and cutting phases. You can buy Trenbolone 50 in the USA at our online British Dragon Pharma store.
Trenbolone 50 Cycle
Trenbolone 50 is often employed for short-term, high-impact cycles due to its fast-acting nature. In a typical cycle, bodybuilders may use Trenbolone 50 at 50 mg every other day for a duration of 4-6 weeks. This dosage provides a quick and intense anabolic response, making it suitable for individuals seeking rapid gains.
As Trenbolone is potent on its own, stacking may not be necessary for some users. However, advanced users may choose to stack it with other anabolic steroids like Testosterone or Dianabol for synergistic effects.
Side Effects
While Dragon Pharma's Trenbolone 50 delivers rapid and pronounced results, it is not exempt from potential side effects. Androgenic effects such as increased aggression, acne, and hair growth can occur. Cardiovascular issues, including negative impacts on cholesterol levels, are a concern, necessitating regular monitoring. Night sweats, insomnia, and potential impact on kidney function are reported side effects. Responsible use, including post-cycle therapy (PCT) and adherence to recommended dosages, can help mitigate these effects. Individuals considering Trenbolone 50 should consult with healthcare professionals for personalized advice and monitoring.
References
Please log in to write Trenbolone 50 review.