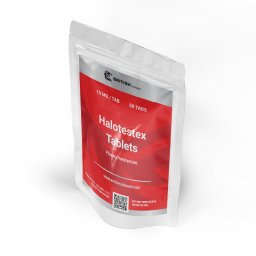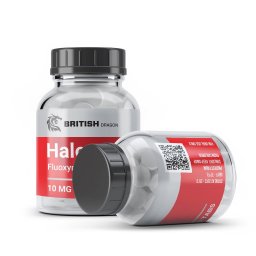 ALL PRODUCTS
Halotestex Tablets
For Oral Administration
Composition: Fluoxymesterone
Dosage: 10 mg/tablet
Unit: 50 Tablets
Manufactured by British Dragon Pharmaceuticals
Halotestex Tablets Detailed
Name: Halotestex Tablets
Other common names and terms: Haloxyl, Halotestex, Halotest, Halobolic, Halotest 10mg,Halotestin, Halotestos, Halo
Active Life: 9 Hours
Drug Class: Androgen; Anabolic Steroid
Detection Time: 11 Months
Chemical Structure: 9-Fluoro-17О±-methyl-11ОІ,17ОІ-dihydroxyandrost-4-en-3-one
Common Doses: 10-40 mg/day
Blood pressure: Perhaps
Acne: Yes
Water retention: No
Aromatisation: No
Liver toxicity: High
Decrease HPTA function: None
Halotestex Tablets, crafted by British Dragon, feature the active substance Fluoxymesterone at a concentration of 10 mg per tablet, conveniently packaged in sachets. Fluoxymesterone is a synthetic derivative of testosterone, belonging to the class of androgenic-anabolic steroids. Halotestex is renowned for its potent androgenic effects, making it a popular choice in the realm of competitive sports and bodybuilding.
Main Effects
Halotestex Tablets induce a range of effects attributed to its androgenic nature. It enhances protein synthesis, leading to increased muscle mass and strength. Athletes often favor Halotestex for its ability to promote aggression and competitiveness, qualities particularly advantageous in strength-focused disciplines. This steroid does not convert to estrogen, eliminating concerns related to water retention or gynecomastia, but it may contribute to a dry and hardened appearance.
Due to its strong androgenic effects, Halotestex is considered a short-term, pre-competition steroid rather than a long-term muscle-building agent. It is renowned for its ability to provide a rapid boost in strength and aggression, making it popular among powerlifters and athletes seeking a competitive edge. You can buy Halotestex in the USA at our online British Dragon Pharma store.
Halotestex Cycle
Halotestex is typically used in short cycles due to its hepatotoxic nature and potent androgenic effects. Bodybuilders may integrate it in the final weeks leading up to a competition or strength-focused event. A common dosage ranges from 10 to 40 mg per day, divided into two or more administrations to maintain stable blood levels. An example of a Halotestex cycle might involve a 20 mg daily dosage for 4-6 weeks.
Halotestex is often stacked with other non-aromatizing compounds like stanabol or trenabol 100 to enhance its effects and mitigate potential side effects. This combination aims to create a synergistic impact, emphasizing muscle definition and hardness.
Side Effects
British Dragon's Halotestex come with potential androgenic side effects. Users may experience increased aggression, oily skin, and acne. Due to its hepatotoxicity, liver function should be closely monitored during the cycle, and users are advised to avoid alcohol and other substances that may further strain the liver. Halotestex is not recommended for extended use due to its potential impact on liver health.
Female users should exercise caution as virilization symptoms, such as deepening of the voice and facial hair growth, may occur. Regular health check-ups and consultation with a healthcare professional are crucial to monitor and manage potential side effects, especially considering the potency of Halotestex.
References
Please log in to write Halotestex Tablets review.